Dr. Jonas Schnitzer
Postdoc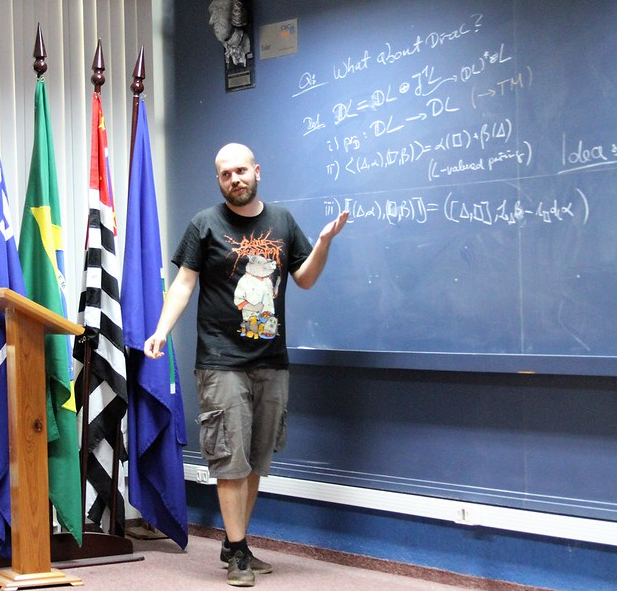 E-mail:
firstname.lastname[at]math.uni-freiburg.de
Telephone:
+49 (0)761 203 - 5564
Fax:
+49 (0)761 203 - 5541
Room:
342
Office hours:
by arrangement
Address:
Mathematisches Institut
Abteilung Reine Mathematik
Albert-Ludwigs-Universität Freiburg
Ernst-Zermelo-Str. 1
79104 Freiburg i. Br.
Germany
Education
I did my undergraduate eductation at the University of Würzburg, where I recieved my B.Sc. (2010-2014, thesis supervisor: Knut Hüper) and my M.Sc. (2014-2016, thesis advisor: Stefan Waldmann). I revied my Ph.D. under the supervision of Luca Vitagliano at the University of Salerno (IT). Here you can find my thesis. You can find my full CV here.
Research Interest
I am a post doc at the differential geometry group at the mathematical institute of the university of Freiburg. My research interest is centered around Poisson geometry, understood in a broad sense, and its application to (mathematical) physics. Specifically, I work on semi-local models of poisson-related geometries, such as Jacobi bundles and Dirac structures, quantization of Poisson manifolds and the interplay of (semi-)local approximations and quantization. Moreover, I am interested in symmetries in Poisson geometry as well as reduction theory combined with quantizations. Recently, I got interested in graded (symplectic) geometry and its interplay with quantization.
Preprints
The Homotopy Class of twisted L∞-morphisms, with A.Kraft, appears in Homology Homotopy Appl. arXiv
Publications
Conferences
Teaching
Current
Past Semesters
A list of past lectures and seminars can be found
here.